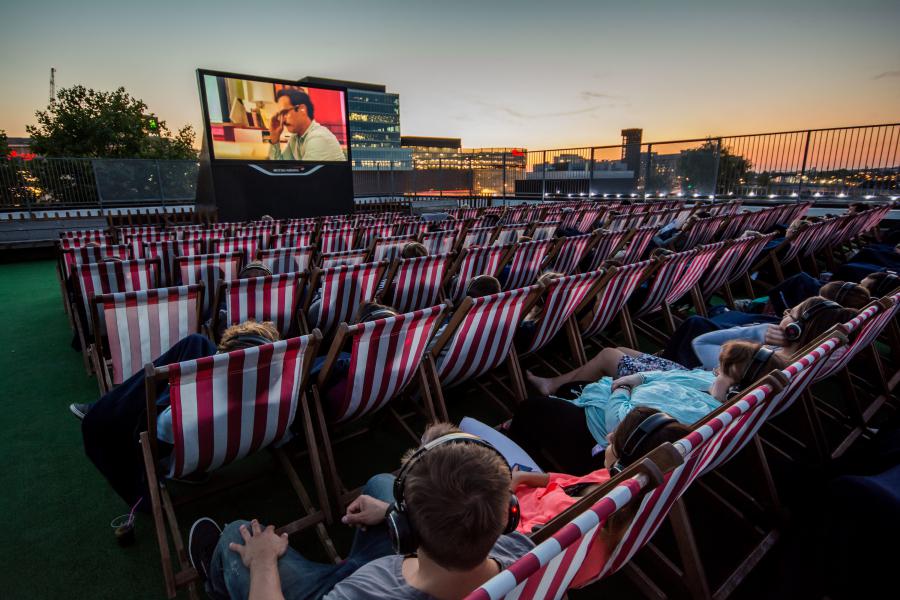 As you may have noticed, it's pretty nice out.
And there's nothing better in Brooklyn than taking in a film outside — be it on a lawn or on a rooftop.
You have plenty of time to experience a classic or new film outdoors, and IPG has put together a short list of the remaining places to take in a film under the skies.
Rooftop Films, Varied Locations 
The long-time outdoor summer series — it's in its 11th season — will be showing films on the roof at the William Vale (111 North 12th Street at Wythe Avenue). They will be showing "The Incredible Jessica James" on July 25th. The rooftop specialists will be screening "California Dreams" at the Old American Can Factory (232 Third Street at Third Avenue). And finally, the company will screen four films — "Seattle Short FIlms" on July 20th, "Animation Block Party" on July 27, "Dayveon" on July 28th and "Rooftop Shots" short films on August 19th -- at Industry City (220 36th Street #2 between Second and Third avenues).
Pizza Wine Movie Night Rooftop Reds, Brooklyn Navy Yard, Building 275
The rooftop series is becoming one of the best in the area. The elevated vineyards provide a subtle atmosphere to experience some classic movies. There's still time to grab some of those flicks. The remaining movies are "Beaches" on July 20th, "Dirty Dancing" on July 27th, "Tron" and "Wall-E".
Habana Outpost, 757 Fulton Street, Fort Greene
There's nothing like having tacos and margaritas while viewing some classic films at this popular summer spot. The restaurant streams the films on its outdoor patio's wall. And there's a boatload of films left to watch: "Stir Crazy" on July 23rd, "Friday" on July 30th, "White Men Can't Jump" on August 6th, "Flashdance" on August 18th, "Life" on August 20th, "Coming to America" on August 27th and "Mary Poppins" on September 3rd.
Narrows Botanical Gardens, Shore Road  at 71st Street, Bay Ridge
With the Verrazano Narrows Bridge as the backdrop, they may not be a better setting to get in some old school films. But make sure you bring a blanket so you could lay on the lawn. There are only a handful of films left to screen: "Buddy" on July 28th, "Bee Movie" on August 25th and "Planet of the Apes" on September 8th.
Coney Island Flicks at the Beach
The grand old beach inflates a giant screen on the sand at sunset every Monday until the end of the summer. Grab a cooler and a towel and take in some of the best movies out today. Co-sponsored by Amazon, the remaining movies include "Finding Dory" on July 24th, "La La Land" on July 31st, "Get Out" on August 7th, "The Lego Batman Movie" on August 14th, "Crown Heights" on August 21st and "Star Wars: Rogue One" on August 28th.
Red Hook Flicks, Valentino Pier; Coffey and Ferris streets, Red Hook
This film series is unique in that films are projected off a 19th century warehouse with the skyline in the background. But what makes these screenings even more enticing is that each film's night is sponsored by a different local bar or restaurant. The remaining movies included "Zootopia" on July 25th, "Napoleon Dynamite" on August 1st, "Ghost Dog" on August 8th, "Donnie Darko" on August 15th, "Minions" on August 22nd and "Armageddon" on August 29th.