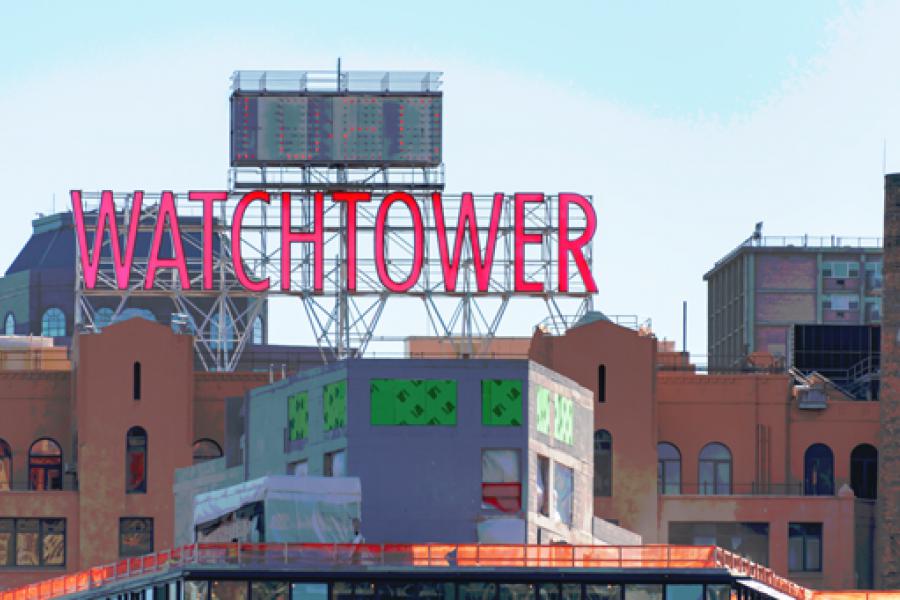 For nearly 50 years, the Watchtower sign provided the time and temperature for motorists traveling into Brooklyn on the Brooklyn Bridge or while walking around DUMBO. 
Those days are seriously numbered.
The Jehovah's Witnesses, owners of the building, filed a permit with the city to remove the 15-foot sign from the roof in June, DNAinfo.com reported.
The building, located at 25-30 Columbia Heights, is the world headquarters for the religious organization and had recently been reportedly sold to Kushner Companies, CIM Group and LIVWRK Holdings for $340 million. 
The removal of the sign is just a small step in the transition to the new owners, DNAinfo.com reported.
Jehovah's Witnesses said in a statement: "We will carefully remove an store the letters, which have historical significance to our organization."
According to the Department of Building, the cost of the removal will cost around $70,500. 
The long history of the sign began in the 1960s when pharmaceutical giant E.R. Squibb & Sons installed the bases of the sign. The Jehovah's Witnesses bought the building in 1969 and changed the letters to its current form. In 2009, the organization upgraded the sign's lights by replacing the inefficient neon tubes with LEDs, the DNAinfo.com stated. 
The sign won't conjure the same passion as with the demise of the Kentile Floors sign. But the removal of the "Watchtower" sign does bring some emotions. 
"It's nice to look out the window to see the time and temperature before I go to work," a woman stated in a video on the Jehovah's Witnesses website. "It keeps me on time and helps me dress for the weather."
The organization's world headquarters will be relocating upstate to Warwick.