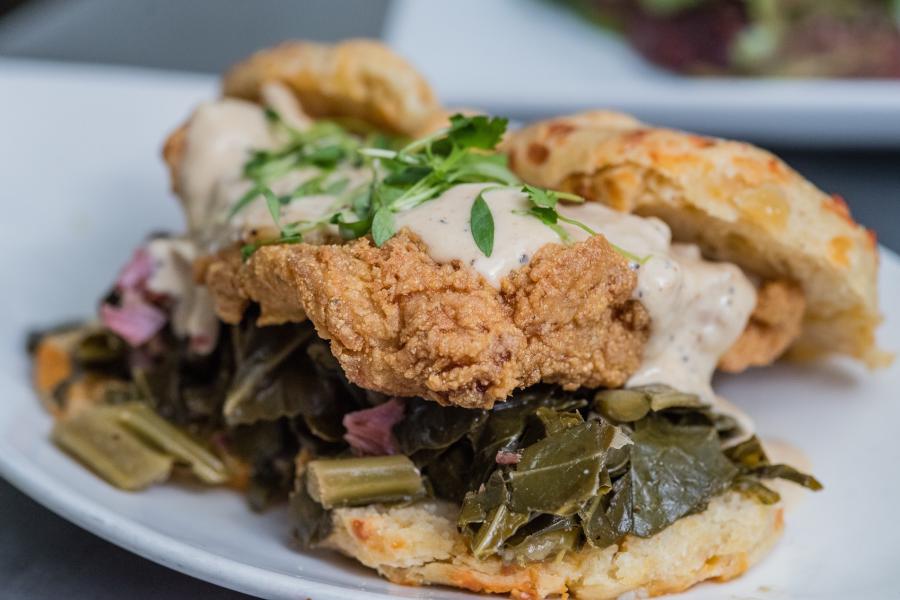 It may seem like everyone is jumping on the Biggie Smalls bandwagon these days. But you can't deny the anticipation when something new and creative comes out. 
That could be said for the new Brooklyn Wing House in Crown Heights. The chicken wing specialists have decided to honor the borough's royalty with the addition of the Notorious B.I.G. Catfish Sandwich. 
The sandwich is served on a biscuit with cheddar, collard greens, smoked turkey neck and peppercorn, and it has been a quick hit. 
In fact, the wing spot has become a quick favorite in Crown Heights because of its decision to serve nontraditional flavors such as sweet chili rum glaze, pineapple teriyaki, and Circo-infused habanero. 
"Our stuff is fresh, marinated for 24 hours," executive chef Omar Walters told DNAinfo.com. "We have buffalo, but we also have a tamarind glaze, we have a pineapple teriyaki, habanero. We have jerk wings. We have garlic parmesan."
Brooklyn Wing House replaced defunct Super Wings at 1218 Union Street and it is the brainchild of Andrew Spaulding, a Crown Heights native, and David Spence. 
The owners place an importance on providing fresh and quality — a rhetoric something other wing joints don't employ.
"It's different when it's quality," Spaulding told DNAinfo.com. "We have more time to cook the food."