Search

Sales

Rentals

New Developments

Agents

Neighborhoods

Contact

About

Press
Meet our Agents
Client Testimonials
I have recently had the opportunity to work with Alex in renting a commercial space. His constant communication, positive energy and an easygoing approach were tantamount to the success of a potentially stressful and demanding situation. You will not find another honest and considerate broker like Alex. I would highly recommend him.
Though I learned if the Gowanus listing through a friend, Alex was always readily available and helpful in the process of completing the lease application and answering any and all of my questions. He made it a pleasant and quick experience! I'm so happy with my new acupuncture office! Warmly, Supriya.
Supriya Desai Lay
,
03/28/2017
Alex was wonderful to work with on the process of renting our commercial space. We needed to get the deal done in a timely manner and Alex was super helpful. He was responsive, friendly, honest, and a big part of making the rental process go smoothly. I would definitely work with him again and recommend him to anyone in the market for new commercial space.
Alex Robayo. There has never been a better name for an agent. Alex is the consummate professional. But more then that, he is a good spirit, who is enthusiastic, earnest and knowledgable about the work he does. I've had some crappy New York broker experiences, and if there are others out there like me, or if you are in the market for a space, business or residential, I cannot recommend Alex enough.*****10 STARS*****
Chanelle Elaine
,
01/31/2017
LEAVE A TESTIMONIAL FOR ALEX
Prior to joining Ideal Properties Group, Alex Robayo worked for almost 20 years in interior design and home improvement fields.

Alex has bought or participated in the purchasing, remodeling, renting and or selling of real property in a variety of neighborhoods throughout Brooklyn, Queens, Manhattan and overseas.

Having worked fulfilling the residential and commercial design needs of many people of diverse backgrounds, you can be assured Alex is going to use the same work ethics in finding you your dream apartment, home or space.

Rest assured, with Alex, your real estate needs are in skilled, diligent hands.
Mr. Robayo in the News:
10/14/2016
New York Calendar: Gowanus Loft & Galleries Art Expo
10/01/2016
Art Show and Pop-Up Loft-Gallery a Success in Gowanus
09/01/2016
08/31/2016
IN PICTURES: Ideal Properties hosts Gowanus Lofts Galleries arts celebration
08/25/2016
08/23/2016
Ideal Properties Group Announces Weekend of Local Art, Shopping, Music and Celebration at Gowanus Lofts and Galleries
08/05/2016
The Plan: Old Gowanus Warehouse Turns Into Gallery and Workspace
08/03/2016
Business Day: 360 Jefferson for sale
05/03/2016
Recent Commercial Real Estate Transactions: 55 Ninth Street, Gowanus
03/01/2016
Recent Commercial Real Estate Transactions: 419 Eldert Street
01/17/2016
Top 10 Real Estate Listings This Week: Houses for Those on a Low (for Brooklyn) Budget
01/08/2016
Brownstone or Modern? Four Open Houses to See This Weekend
09/22/2015
Recent Commercial Real Estate Transactions
01/06/2015
Recent Commercial Transactions: 511 Fifth Avenue
08/12/2014
Recent Commercial Real Estate Transactions
02/25/2014
Recent Commercial Real Estate Transactions
My featured listings
IN CONTRACT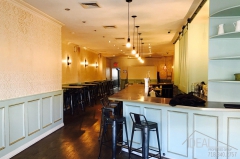 Property ID: C9242134
752 Coney Island Avenue - Fantastic 2,000 SF Turn-Key Restaurant Available for Rent in Kensington/Ditmas Park Building!
Purpose: For Lease Size: 2040 sf
Price: 5,450