Search

Sales

Rentals

New Developments

Agents

Neighborhoods

Contact

About

Press
Meet our Agents
Client Testimonials
I can't wait to move in to my awesome, awesome pad. Andrew is the most incredible agent I have ever worked with! He really succeeded in finding me that proverbial apartment of my dreams. The apartment is so wonderful, and PLUS it has an amazing view of Brooklyn. Thank you Andrew, and thank you Ideal properties for helping me out! I would surely share this experience with my friends and I will recommend you all as the top brokers in Cobble Hill!
We had some problems in the past in finding a good apartment since my husband is self-employed and I am a stay-at-home mom. Not until a friend introduced me to Ideal Properties Group back in 2009 have we managed to find a really great space. This is our second time renting through Ideal (2013), and Ideal, this time around through the work of their agent Andrew, has helped us find the finest apartment in Cobble Hill! Ideal's agents are very friendly, and the most dedicated agents we have worked with. The apartment we rented is so fantastic. I personally would highly recommend Andrew and David of Ideal Properties because they are most likely the best, the most capable, and the most efficient brokers that Brooklyn has ever had! Plus, they're incredibly nice people. Best of luck, Ideal! Samra (posted on Yellow Pages)
When you're faced with endless choices in New York City's muddy waters of real estate, it is difficult to see the forest for the trees, and there is little time to waste. Ideal Properties' agent Andrew was able to quickly grasp our needs and desires and help us make timely decisions for a guaranteed and fast approval of our rental application. Thanks, Andrew!
It was great working with Andrew. Professional, polite, responsible, and worked hard to find the right property for me.
OH, FINALLY! Finally, finally, finally, finally...!!!!! Have I said FINALLY yet? Honest broker, great listings, awesome selection! Thank youuuuuu!
niCOLEtte, Review from Merchant Circle
,
08/13/2011
This review is for Andrew Westphal. After initially being stood up by another one of Ideal's brokers, I had the pleasure of working with Andrew to find our apartment in park slope. We were in a rush, trying to find an apartment for less than a month away, and Andrew worked with our time frame showing us several apartments on the first day that we showed up (with no advance notice, as we were supposed to work with another broker who never showed). When we changed our criteria after that day, he went with it and knew of the perfect apartment in our new price range which we decided on the next day. We got the process done quickly and efficiently, and although it really sucks to pay a broker fee, it saved us a lot of time and effort.
Amanda H, review from Yelp
,
05/26/2011
Andrew from Ideal was very helpful in finding us just the right apartment in Carroll Gardens. We told him what we were looking for, and that's exactly what he found us. I mean, it was supposed to be frustrating and complicated…! But thanks to Andrew, our search turned out to be anything but.
mollyjoneas, review from CitySearch
,
08/29/2009
LEAVE A TESTIMONIAL FOR ANDREW
My featured listings
IN CONTRACT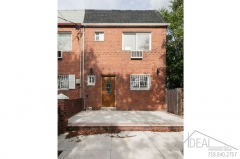 Property ID: S930235974
1019 Schenck Avenue, Brooklyn NY
Rooms: 5 | Bedrooms: 3 | Bathrooms: 1
Price: 489,000