Search

Sales

Rentals

New Developments

Agents

Neighborhoods

Contact

About

Press
Meet our Agents
Client Testimonials
Liz Galvin professionally and successfully assisted my daughter and her two roommates in locating and renting an apartment in Brooklyn. For 3 recent college grads, guarantors were required and each guarantor came from far-flung areas of the country. Liz was instrumental in keeping all six participants on task through to completion of the transaction within a week! As a seasoned apartment and real estate investor, I sensed that Liz really cared about a successful outcome for all involved. I would highly recommend using Liz.
Liz Galvin is one of the most incredible agents that I have ever met. She was always willing to go the extra mile for us while we were looking for our first Brooklyn apartment. She drove us EVERYWHERE which was just one of the amazing perks of Liz as a realtor. Liz as a person on the other hand, is beautiful and super pumped when you just feel like there is no hope in finding a perfect place. But she did it. Really, really quickly.
Ashley K. Goodwin
,
04/10/2014
I had the pleasure of working with Liz and she was truly amazing. I had to move very quickly and she was on it! She showed me several places and when we found one that I really liked she helped to expedite the process. Because I was sleeping on a couch, she worked her magic and was able to even get me into the apartment early. I\'m so grateful that she actually cared about my wellbeing, a quality I haven\'t seen in many realtors. She kind, dedicated to her clients, and moves so fast. I would recommend her to anyone looking in this tough NY market, and I\'ll definitely use her if I ever have to move again!
I don't think I'm allowed to use obscenities in these reviews, so I won't. BUT, if I did, I would have to say that Liz is a fan-f'in-tastic agent. Liz was pretty much amazing in every single way--personable, punctual, and quite knowledgeable. We saw 3 properties, absolutely loved one of them, and got the paperwork started. She kept us informed of the application process every step of the way and was THRILLED to tell us that we were approved for the apartment!! She was there to welcome us (with a bottle of wine) on moving day. I mean, everything was simply awesome. If/when I eventually move, I know who I'm turning to first!
Liz helped my boyfriend and me find a true gem in Park Slope last spring. She was incredibly responsive over email and phone, showed us places that really fit our criteria, and even helped us negotiate improvements to the space after we had signed the lease and paid the fee. Liz is the absolute best!
LEAVE A TESTIMONIAL FOR ELIZABETH
A native New Yorker, Liz has called Brooklyn home since 1997, by way of Florida. Having first landed in Carroll Gardens, Liz has lived in a myriad of neighborhoods over the past 18 years including Red Hook, Brooklyn Heights, Williamsburg, Kensington and Greenpoint and knows the borough like the back of her hand, blindfolded, backwards, and inside out.

A cat lover for life, Liz, along with the two apples of her eyes Tony and Audrey (her cats...), currently and forever calls the sleepy, waterfront streets of Red Hook her home.

Holding an active career as a real estate broker for nearly 3 years, Liz's interest, love and appreciation for architecture, design, the people of Brooklyn and the borough as a whole is something that sparked nearly 2 decades ago and shows no sight of dimming.

With a perfect combination of compassion, understanding, professionalism, knowledge and the actual ability to listen to her clients needs, your experience working with Liz will be nothing short of fantastic! Liz operates with an impressive track record of return clients and client referrals.

You will find Liz an absolute delight to work with during your next home search; give her a call today!
My featured listings
IN CONTRACT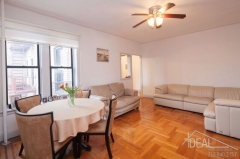 Property ID: S90238456
2913 Foster Avenue Apt #4J, Brooklyn NY 11210 - Beautifully Renovated 2 Bedroom Co-op for Sale in Flatbush!
Rooms: 4 | Bedrooms: 2 | Bathrooms: 1
Price: 319,000