Search

Sales

Rentals

New Developments

Agents

Neighborhoods

Contact

About

Press
Meet our Agents
Client Testimonials
Laz was the light in an otherwise dark, cold and daunting search for an apartment in Park Slope. He went above and beyond to help us find a place, and was always available within hours to show places we were interested in. Great person and great agent. Would recommend Laz to anyone.
Steven Schroeder
,
03/13/2015
I worked with Laz Rivero in the Cobble Hill office. Laz went above and beyond in terms of communication, feedback, and effort. He was flexible when our schedule changed, and provided honest insights into all the units and neighborhoods we saw. I strongly recommend him for anyone looking for an apartment in Brooklyn.
LEAVE A TESTIMONIAL FOR LAZARO
Lazaro "Laz" Rivero credits his success to his ability to handle even the most stressful situations with genuine care and diligence. Starting out his career in the hospitality industry, Laz spent over 14 years in hospitality. Today, Laz serves as a licensed real estate salesperson with Ideal Properties Group, a place he proudly calls his second home.

Proud of his 100% Cuban heritage, Laz grew up in New Jersey, right across the Hudson River. At the young age of 19, Laz officially started his career, holding various front office positions at hotels in New York City over the course of fourteen years, first at the Loews NY Hotel followed by The London NYC Hotel, previously known as the RHIGA Royal. As both his experience and expertise grew within the industry, so did his role at The London NYC Hotel. Laz was quickly promoted to VIP manager and then later to Senior VIP Manager. In this position, Laz stood as the liaison between the hotel and all of its VIP guests, which included celebrities, dignitaries and professional athletes. "My entire life was dedicated to the hospitality industry," Laz states when asked about his career before real estate, "but everyone did always tell me that I should get into sales."

Looking for a change, Laz packed up and moved to Brooklyn - first living in Williamsburg, Cobble Hill, Ditmas Park and now he resides in Prospect Heights. Along with his change in location, Laz was also looking for a change in career. "There are so many real estate firms in New York, so it was clear that something big was happening within that industry," Rivero states of why he chose to get into real estate. "I didn't want to miss anything and I was ready to jump right in.

Laz also believes that his love for Brooklyn has played a large role in his success with Ideal Properties Group. Laz states: "I truly love working in Brooklyn. I wouldn't leave it for anything."
Mr. Rivero in the News:
03/01/2017
02/21/2017
Rivero rejoins Ideal Properties a salesperson
02/17/2017
02/09/2017
People on the Move: Lazaro Rivero, Salesperson at Ideal Properties Group
02/08/2017
Lazaro Rivero Rejoins Ideal Properties Group
03/22/2016
The $4 Million Red Hook Townhouse Has Officially Arrived
05/23/2014
Open House Picks: 874 60th Street
04/10/2014
The Clarimar Phoenix Reaches 75 Percent Leased
My featured listings
IN CONTRACT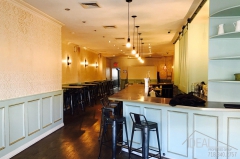 Property ID: C9242134
752 Coney Island Avenue - Fantastic 2,000 SF Turn-Key Restaurant Available for Rent in Kensington/Ditmas Park Building!
Purpose: For Lease Size: 2040 sf
Price: 5,450